Ed Reavis and Jennifer Meltzer, owners of Silver Spring's All Set Restaurant & Bar, Money Muscle BBQ, and Fryer's Roadside have added pizza to the Fryer's menu for the summer.
The 10-inch, wood-fired pies will be served Friday through Sunday from 4 p.m. until closing, with the mobile oven appearing at other Silver Spring locations on a rotating basis.
Following the acquisition of Fryer's Roadside by Reavis and Meltzer last year, the restaurant launched a revamped menu including Money Muscle BBQ's offerings along with Fryer's fried chicken and ice cream.
Looking to expand the menu, Reavis sharpened his pizza skills at the International Pizza Expo in Las Vegas, the Wood Fired University in Colorado, as well as a New York Pizza Masterclass with Master Pizzaiolo Domenico "Mimmo" Tolomeo.
"I'm always looking for the next thing," Reavis said to MoCo360. "We thought it was perfect, something to translate into because, with all our barbecue meat, we can do some cool pizza."
The final menu of personal pies includes classics like the $10 Four Cheese Pizza with provolone, mozzarella, romano, and parmesan and the $12 Pepperoni Pizza. However, fans of Money Muscle's classic BBQ are likely to opt for the Barbecue Smoked Chicken Pizza or Carolina Pulled Pork Pizza, which includes sauteed onions, mozzarella, parmesan, Kansas City barbeque sauce, and scallions atop each BBQ protein. Moreover, Reavis and the Money Muscle team developed a proprietary sausage topping with Landover-based MeatCrafters that consists of beef, jalapeño cheddar, and cayenne in a lamb casing.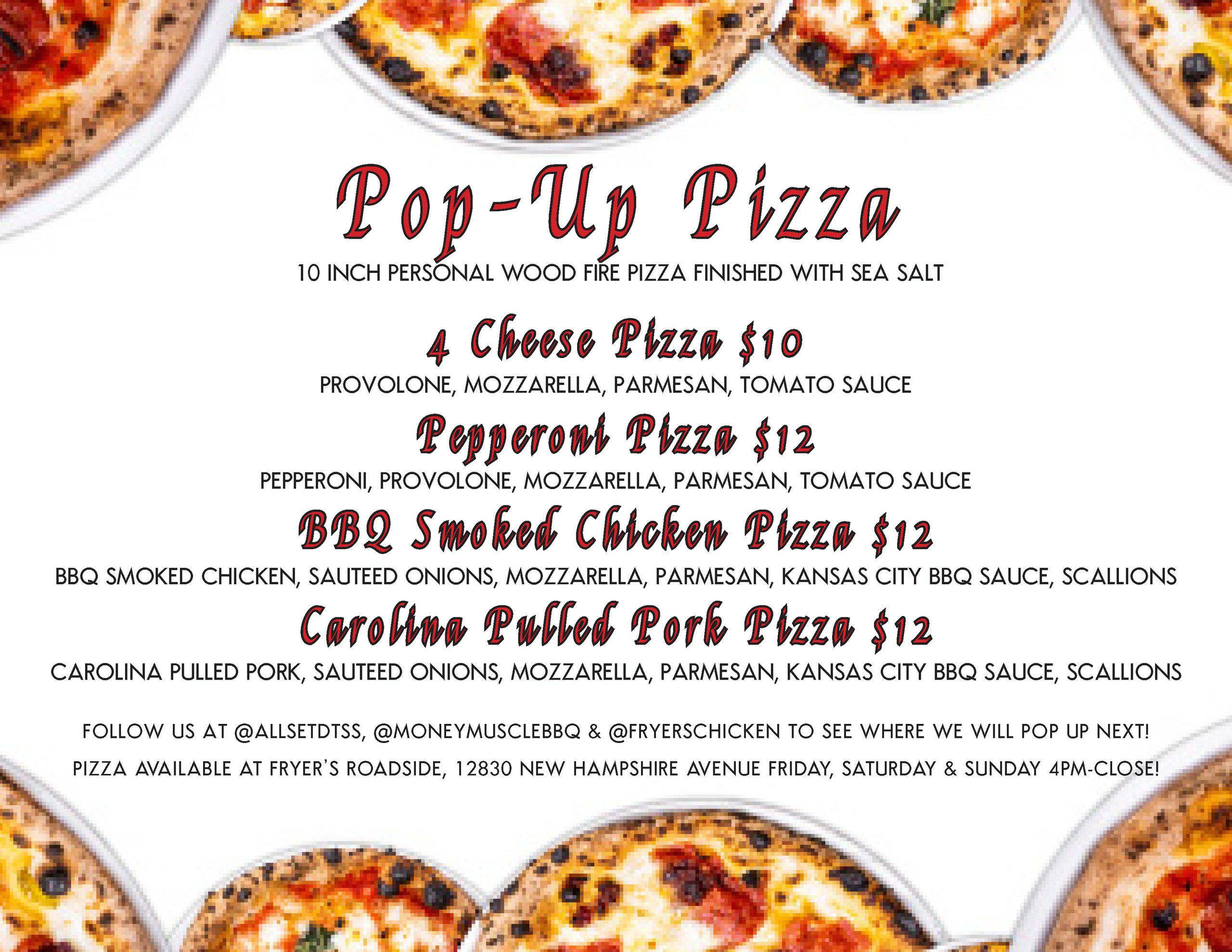 The pop-up originally opened at Denizens Brewing Co. in downtown Silver Spring at the beginning of May and has been serving pizza intermittently since then, according to MoCo360. It is expected to continue every weekend until the end of the summer, Reavis said.
Future pop-up locations will be announced on the Money Muscle BBQ, Fryer's Roadside, and All Set Instagram pages. The pop-up can also be booked for events with the Money Muscle food truck by contacting [email protected] or [email protected].
Photo: Deb Lindsey for All Set Restaurant & Bar, Money Muscle BBQ & Fryer's Roadside