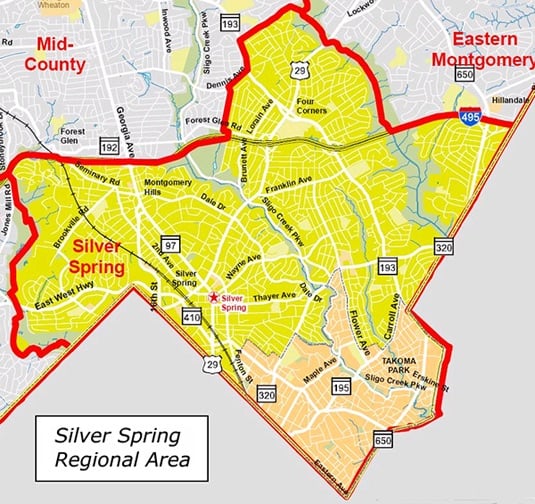 What is "Silver Spring?"
Essentially, Silver Spring is a large unincorporated area designated by the U.S. Postal Service.  It is not a municipality like Rockville or Takoma Park. For the Source of the Spring, we decided to define Silver Spring as that area within the borders served by the Silver Spring Regional Center: which encompasses the area south of the beltway, Four Corners, east to the Prince George County line, south to the Washington D.C. line and west to Rock Creek Park. It includes Takoma Park, that portion of Langley Park in Montgomery County, the communities of Long Branch, Montgomery Hills, Lyttonsville, Rosemary Hills, all the Woodside neighborhoods, Indian Springs, Four Corners and other self-identified and recognized neighborhoods.
What is the Silver Spring Regional Service Center?
The Silver Spring Regional Service Center is a county department intended to connect Montgomery County and community members, businesses, institutions, non-profits, visitors and all other interests in Silver Spring. It's mission is "to strengthen communication between the community and various agencies of the county government, coordinate necessary interagency action with respect to each local area, and recommend programs and policies tailored to the local community." Area citizens are appointed by the county to serve on the Silver Spring Citizens Advisory Board to help provide input to the county on how best to serve its constituencies. Residents and business people also are appointed to the Urban District Advisory Committee and the Transportation Management District and provide more specialized feedback.
What about elected officials? Does Silver Spring have any?
Yes. Silver Spring lies within the county's Council District 5 and is currently represented on the County Council by Councilmember Tom Hucker. In addition, there are four at-large members of the council elected countywide; two of the current at-large councilmembers live within our boundaries of Silver Spring. In addition, the current county executive, Marc Elrich, lives in Takoma Park, which is part of our coverage area as well.
What is this 311 I've heard a little about?
311 is Montgomery County's phone number for non-emergency government information and services. The customer service representatives and an online system use a database of information and services about county government that can be continually updated so the most current facts are available.
What is the Purple Line and how will it serve Silver Spring?
The Purple Line is a long-planned, 16-mile light rail line that will connect the Bethesda Metro station in the west with the New Carrolton station in the east, along with Metro stations in Silver Spring and College Park and other transit centers. It is expected to save east-west commuters significant commuting time. Construction is planned to start in 2016 and service to begin in 2022. Silver Spring will be served by eight stations (west-east): Lyttonsville, Woodside/16th Street, Silver Spring Transit Center, Silver Spring Library, Dale Drive at Wayne Avenue, Manchester Place, Long Branch and Piney Branch Road. It is expected to spur development near many of these stations, especially the eastern three.
I want to open a business in Silver Spring. Where do I start?
Opening a business in Montgomery County can be a long and complex process. We recommend starting with the Department of Permitting Services to get an idea of what requirements you'll be dealing with as you prepare to open. If you plan to open a restaurant, they've prepared a specific guide for you called Recipe for Success. The Montgomery County Economic Development Corporation can be a valuable resource for you. The staff of the Silver Spring Regional Center is another resource, as is The Greater Silver Spring Chamber of Commerce. Good luck.
Where can I see a movie in Silver Spring?
The Regal Majestic 20 (900 Ellsworth Dr.) has 20 screens, including an IMAX theater, showing first-run films. AFI Silver Theatre and Cultural Center (8633 Colesville Rd.) has three screens. The main screen is restored to its original Art Deco look. AFI shows independent, art, and some first-run films, as well as many older movies, retrospectives and special series. The organization also produces several foreign film festivals along with a well-known documentary film festival.
Are there any places to hear live music in or around Silver Spring?
Yes, lots. The Fillmore Silver Spring (8656 Colesville Rd.) hosts a wide variety of national touring acts. McGinty's Public House (911 Ellsworth Dr.) features traditional Irish music on Tuesday nights, and local DJs Friday and Saturday. Zed's Café (8225 Georgia Ave.) showcases traditional, classical and folk music from local artists. The owner recently opened a second venue, Silver Strings, at 8630 Colesville Rd., which features jazz, rock and other local bands. Society Restaurant and Lounge (8229 Georgia Ave.) typically books reggae, soul and R&B groups. Langano Ethiopian Restaurant (8305 Georgia Ave.) is where you can find traditional Ethiopian music; Abyssinia Restaurant at 8221 Georgia Ave. offers similar performances. You can catch a variety of local singer/songwriters at Bump 'n Grind (1200 East-West Highway). Vicino Ristorante Italiano (959 Sligo Ave.) hosts jazz bands every Monday night. Cissel-Saxon American Legion Post 41 (905 Sligo Ave.) regularly features blues bands and a monthly punk rock show. El Golfo (8739 Flower Ave.) has jazz and Latin performances. El Gavilan (8805 Flower Ave.) has similar music. VFW Post 350 "Hell's Bottom" (6420 Orchard Ave., Takoma Park) has bluegrass, jazz and blues several nights a week. During the summer months, there are bands four nights a week in Veteran's Plaza and on Ellsworth Drive near the fountain.
What public parks are in the area?
The Montgomery-National Capital Park and Planning Commission has a directory of the more than 30 local parks and trails in our area. Ellsworth Urban Park (621 Ellsworth Drive) includes the only dog park in Silver Spring. Not listed in this filtered search are the Long Branch Trail, the Northwest Branch Stream Valley Park trail or the Sligo Creek Stream Valley Trail. Note: Some of the parks shown at this link are outside our coverage area, but relatively close to Silver Spring.
Are there specific paths designated for bicycles?
Yes, and the number is changing as the Park and Planning Board work on updating the master plan for bike paths. This interactive map is the best source for that information at this point. Zoom in on Silver Spring or any other area that interests you. You can scroll up to the top of the page for general information about the county's bikeways.
What have we missed? Let us know.