Woodmoorstock 2023
June 10 @ 12:00 pm

-

6:00 pm

Free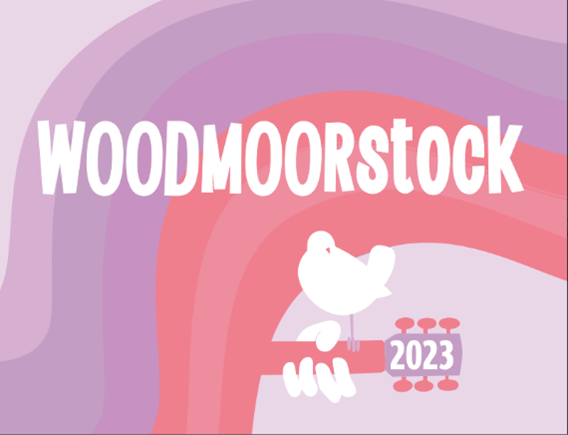 OVERVIEW: Silver Spring's Woodmoor neighborhood music festival, known as WOODMOORstock, will be held for the second consecutive year on Saturday, June 10 (rain date: June 11) from 12pm-6pm. Festival organizers have released the lineup and schedule below, which includes 55 bands who will be playing on 11 volunteer stages around the Woodmoor neighborhood. Maps and programs, in addition to some limited quantities of Woodmoorstock merchandise, will be available for purchase online here, prior to and in-person during the event.
This grassroots event celebrating local talent and music is back thanks to our dedicated and tireless core group of organizers and (new in '23) a group of generous and local sponsors. The event is organized and coordinated by volunteers who live in the Woodmoor neighborhood. Dozens of volunteers open up their front porches and driveways in Woodmoor to the artists who will be playing all kinds of music for the public to enjoy.
Many of the inaugural WOODMOORstock performers are set to return this year, and nearly 40 great new additions to the lineup from all over DC Metro and Baltimore area, including: Pinky Lemon, Dot Dash, Sleeping on Saturn, The Grasso Brothers, Black Shag Sherpas, The Threetles, and many more.
SOME STATS AND USEFUL INFO: The 55 local and regional bands playing at 11 stages for the community have all volunteered their time, talents and equipment to support the arts in Silver Spring. No bands at the festival are compensated for appearing at WOODMOORstock. This year's WOODMOORstock music festival, dubbed WOODMOORstock II, has grown after 2022's inaugural festival attracted 39 bands across 9 volunteer porch/stages and more than 2,000 festival goers. Over 50 volunteers and over 150 musicians of all ages will be making this year's event possible.
Street closures and safety will be monitored by MCPD at the all-ages music festival. Food & beverage trucks will be onsite at the festival.
Parking: Street parking is available, as is parking in local parking lots adjacent to Pinecrest Park (301 St. Lawrence Drive, Silver Spring, MD 20901).
Disclaimer: Because events are submitted by members of the community, Source of the Spring does not verify the accuracy of event submissions. Please contact the Event Organizer(s) for more information. Learn how to submit your event to our Community Events Calendar here.