Secretary of Labor Tom Perez urging rally attendees to work for justice. Photo by Mike Diegel.
Hundreds of people filled Veteran's Plaza in downtown Silver Spring yesterday to cheer as one speaker after another decried bigotry, racism, discrimination and hatred at a rally to "Stand Up for the Montgomery Way."
The rally was organized by the county to reaffirm "the values of diversity, inclusion, and respect for all that have made Montgomery County special."
Secretary of Labor Tom Perez, a Takoma Park resident and former county council member, delivered a fiery speech describing how he'd seen in his travels America at its worst and at its best.
"The arc [of history] is indeed long but it does bend toward justice," he said, "but you know what, folks? It does not bend on its own. We must bend it together."
The rally followed several local incidents of vandalism and graffiti with racist messages. The speakers sought to assure residents that all are welcome and valued as an integral part of the community.
"We will stand together," said County Executive Ike Leggett. "I am optimistic. I believe in this country."
Referring to the county's 150,000 students, Dr. Jack Smith, superintendent of schools, said, "Every single one of them needs this community to stand behind them.
"We don't care in the school system about anyone's status other than their reading level or math level," he continued.
Councilmember Nancy Floreen, representing the entire council, said, "We will watch, we will act, we will fight . . . and we will act [on what] our hearts tell us is right."
Other speakers sounding similar themes included Senator-elect Chris Van Hollen, state Comptroller Peter Franchot , Congressman-elect Jamie Raskin and county police Chief Tom Manger, who promised that the department only cared about residents' safety, not their immigration status.
Also speaking were Montgomery College President DeRionne Pollard, who read a children's book describing what is peace, Ron Halber, executive director of the Jewish Community Relations Council of Greater Washington, a representative of Casa de Maryland and students from Montgomery Blair High School.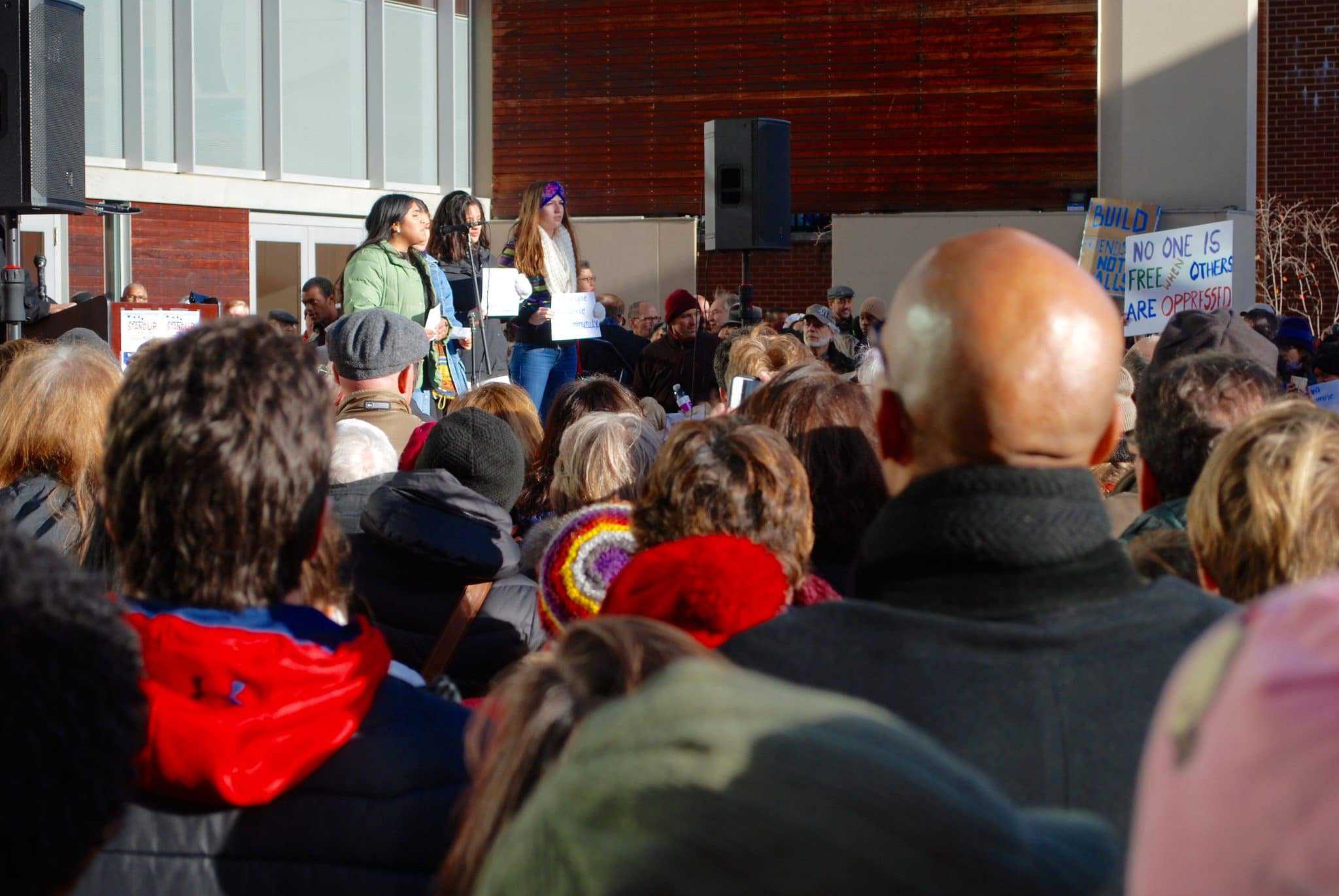 Students from Montgomery Blair High School were among the speakers at the Stand Up for the Montgomery Way rally. Photo by Mike Diegel.