Bonjour Waffles has reopened its food truck at 8600 Georgia Avenue. (Graphic: Bonjour Waffles)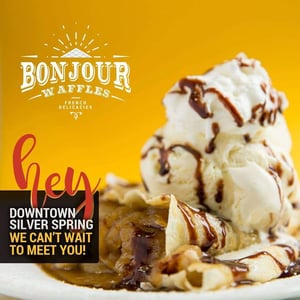 After being out of commission for nearly a month due to truck repairs, Bonjour Waffles has reopened at the Gulf gas station at 8600 Georgia Avenue.
Owner Irene Kinyoki-Adjeb posted on their Facebook page yesterday: "Hey there! Bonjour Waffles is back and open to serve you some delicious waffles and crêpes! Visit us our food truck (in) downtown Silver Spring!"
Bonjour Waffles originally opened on July 3, after being delayed by a week due to permitting delays. The food truck replaced the Fajita Sub Factory, which relocated to 2121 University Boulevard West.
Bonjour Waffles serves authentic Belgian & Liège waffles and crêpes. Their menu of toppings includes Nutella, coconut flakes, a caramel banana topping, ice cream, walnuts, maple syrup and more (see menu below).
The truck is open Monday through Thursday 7am-8pm, Friday 7am-9pm, and Saturday 9am-9pm.