Christian Layke stands where the main taproom bar will be, gesturing toward a cold storage area. Photo by Mike Diegel.
Silver Branch Brewing Company (formerly Parallel World Brewing Company) has signed a lease for 10,000 square feet of space in the Metro Plaza development at 8401 Colesville Rd. for a production brewery, taproom and outdoor biergarten.
The Source had an opportunity to spend some time last week with co-founders Christian Layke, head of brewing operations and chief executive officer, and Brett Robison, who will run the taproom and serve as chief operating officer, for a conversation and a tour of the space.
The visit was followed by an email exchange with Layke and Robison, portions of which are excerpted below.
On Changing Our Name:
Although we liked Parallel World, we set out to find a name that we felt would be very welcoming, elegant, and throw a nod of significance to our local community . . . the name is so important to the overall identity of a brewery that we felt it would be wise to spend considerable amount of time developing something we really loved and carried the right meaning for us . . . The idea behind Silver Branch originated with the Old English and German custom of breweries hanging a branch or broom outside the establishment to advertise the availability of beer. We also felt Silver Branch has a hospitality focus—creating a sense of Gemütlichkeit [German term for sense of coziness, camaraderie and belonging] for our patrons—one of our core values.
On Travel & International Beer Life:
At various times and in various ways, we have both been fortunate enough to live and travel overseas. These trips make up many of our fondest memories and were sometimes formative in becoming who we are. Part of those experiences was falling in love with beer culture, which is an important part of the local culture and social life, especially in Europe . . . We want to borrow our favorite traditions from the various places we've been and share them with them our friends—old friends and brand-new ones. That is what Silver Branch is all about. 
On The Barrel Room:
Part of our brewery is being reserved for a small number of wooden barrels for aging special releases. We would like to have some beer ageing in bourbon and other spirits and to have some producing traditional Belgian-style sour beers like Flanders Red Ale. Because people like the atmosphere of a barrel room and it takes a long time for barrel ageing, we also anticipate hosting gatherings in this area during non-production hours. It will be suitable for guided beer tasting and food pairing events and other educational sessions. We also feel like it would be an outstanding location to install some TVs to watch sporting events, Sunday football, international soccer matches, etc.
On The Private Event Space:
We have heard from many brewery owners that people love the atmosphere of being in a brewery. We can totally understand this, because we love it, too, although we were surprised to find that people actually love to get married in breweries! Given that our fundamental reason for opening a brewery is to share our love of beer with people—on creating Gemütlichkeit—we loved the idea of being able to host people in our brewery when we aren't using it to make beer! We are therefore designing our brewery so we have open space that we can use for canning, keg cleaning, and other staging tasks during production and can then be transformed into a space for corporate meetings, birthday parties, and, yes, weddings if people choose.
On Music and Cultural Celebration:
We will have a variety of events. These will include tapping parties and limited beer releases; cultural celebrations that will include Oktoberfest, St. Patrick's Day, Robbie Burns night, Cinco de Mayo, and others; and an ongoing series of activities like live music. Most of the events will be inside our space and include our biergarten by virtue of the roll-doors that will integrate the inside and outside during warmer weather. A few times per year, we'll host events that spill over onto the plaza beyond our space. That will allow us to grow into a pretty big and exciting Oktoberfest, a celebration we very much look forward to commemorating.
The two co-founders noted that the landlord, Brookfield Asset Management, agreed to permit dogs in the biergarten, which will be easily accessible from the north Metro entrance on Colesville Road (as well as the eventual Purple Line station).
The two intend to create beers that represent the four major brewing cultures: Belgium, Great Britain and Ireland, Central Europe and the Americas, including some more adventurous offerings.
Layke and Robison give credit to recent changes by the state and county, a number of which grew out of the work of the Nighttime Economy Task Force, that have made it easier to open breweries. For example, Robison said, allowing brewers to self-distribute their products and removing WSSC fees for brewers were particularly helpful.
Most recently, County Executive Isiah Leggett in January expanded an economic development incentive for new businesses taking office space, known as the Make Office Vacancy Extinct Program, to include craft breweries, cideries, wineries, and distilleries, a change requested by Montgomery County Council President Hans Riemer (D-At Large) and Councilmember George Leventhal (D-At Large). The MOVE program, which Silver Branch will apply for, provides a grant of $8 per square foot of leased space to new businesses.
Silver Branch Brewing Co. is expected to open in late 2018.
The main taproom above Second Avenue will include booths, individual and communal tables. Photo by Mike Diegel.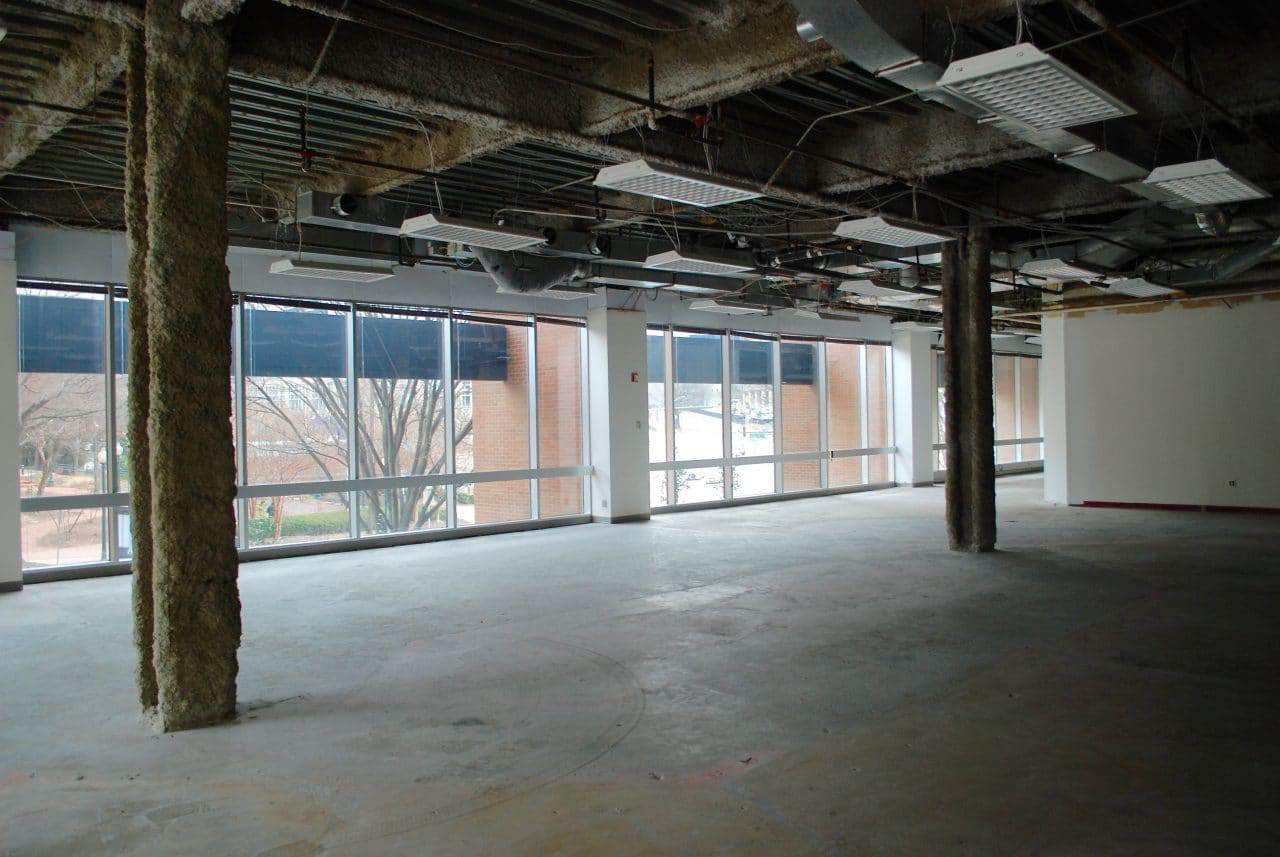 Layke with partner Brett Robison in the area that will hold the production tanks overlooking the Metro and Colesville Road. Photo by Mike Diegel.